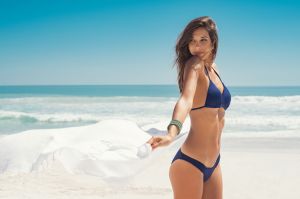 Dr. John Nees is a board-certified aesthetic plastic surgeon offering the most state of the art advancements in abdominoplasty at the heart of Boca Raton. If you are exploring your options for eliminating loose tummy skin and smoothing out your abdominal area, abdominoplasty may be a strong option for you.
What is abdominoplasty?
Abdominoplasty is more commonly known as a 'tummy tuck.' This surgical procedure removes the excess soft tissue that causes a fold of skin and fat in the mid- to lower- abdomen. This soft tissue generally does not respond to exercise or diet. Abdominoplasty removes the tissue and tightens the abdominal wall for a flatter, more firm abdominal area.
What are some common reasons for having abdominoplasty?
The most common reasons for having abdominoplasty include:
Following significant weight loss

Post-pregnancy
If you have given birth or lost a large amount of weight, you may find that there is an excessive amount of soft tissue around your lower abdomen that does not shift—no matter how hard you exercise or diet.
Patients who come to Dr. Nees often complain of the following side effects of excess soft tissue:
Rash or skin infections under the skin fold

Discomfort during sports

Weakness of the abdominal wall which—particularly post-pregnancy—can create a bulge during strenuous activity.

Self-consciousness or low self-esteem
Whatever your reasons for exploring abdominoplasty, Dr. Nees can help you decide if this is the best option for your needs.
How is abdominoplasty performed?
There are various techniques used in abdominoplasty, depending on the target areas and specifics of each patient's case.
One of the most reliable techniques in abdominoplasty is lower transverse excision. Here, an incision is made above the pubic area, and excess soft tissue is removed. The abdominal muscles can be tightened from here. The lower transverse excision abdominoplasty leaves a scar above the pubic region, which can easily be hidden with underwear or bikini briefs
Am I a good candidate for abdominoplasty?
Abdominoplasty is a strong option for resolving loose tissue around the abdomen in those with a normal BMI—around 25. If you are planning on losing more weight, or on adding to your family, you may want to postpone abdominoplasty until after that time.
Surgery of any type can be risky for those who smoke. It is recommended that patients be smoke-free, and have ceased nicotine replacement therapy (NRT) for a minimum of 4 weeks prior to surgery. Similarly, the use of recreational drugs and/or alcohol can impact your ability to recover.
Dr. Nees provides an in-depth consultation with each and every patient, to help you discuss your expectations and understand the procedure before you take the next step. This consultation also helps Dr. Nees gather valuable information to determine whether abdominoplasty is a good option for you—and if you are a good candidate for the surgery.
How should I prepare for abdominoplasty?
Every patient receives a comprehensive, customized care plan to walk them through their cosmetic surgery procedures with confidence. 
Your care plan guides you through managing your own lifestyle—diet, alcohol, tobacco, exercise, and personal care—and allows you to keep Dr. Nees updated on changes to your own medications, vitamins, and supplements.
Your care plan also outlines your pre-surgery and lab tests and helps you understand each step of your abdominoplasty journey.
What should I expect while recovering from abdominoplasty?
Depending on the extent of your surgery, you may be permitted to go home almost immediately post-surgery. Whether you are required to remain under Dr. Nees' care, or able to recover from the comfort of your own home, your care over the next few months will remain essentially the same.
It is important to make sure somebody is at home to care for you and take care of general household tasks—cleaning, cooking, driving, shopping—for the first two weeks following your surgery.
Immediately following surgery, you may be unable to lie flat or to sit up unattended. It is normal to feel swollen, tender, and bruised post-surgery. You will be unable to shower for the first 1-2 days, and unable to bathe or swim until your surgical incision has healed.
By day 2-3, you may be able to shower briefly. It is important that you keep your surgical tape and dressings dry and clean.
By week two, you may feel comfortable driving for yourself.
Although light movement can be beneficial 2-3 weeks post-surgery, more strenuous activity is not recommended until week 6, or after consultation with Dr. Nees. You will continue to wear support garments for up to 12 weeks following surgery, to allow your abdominal wall time to strengthen and heal.
Ready to talk to Dr. Nees about abdominoplasty?
You can schedule a comprehensive consultation at his Boca Raton clinic by clicking here, or call him to discuss your options.
Results may vary between patients.
The Fountain of Youth is One Click Away,
contact Dr. Nees today!